Tracy G. Anthony , Ph.D.
Associate Professor of Nutritional Sciences

Ph.D., University of Illinois at Urbana-Champaign; Nutritional Sciences (1998)
M.S., University of Illinois at Urbana-Champaign; Nutritional Sciences (1995)
B.S., Virginia Tech University; Human Nutrition and Foods (1993)
Office: (848)932-6331
Lab:
Email: tracy.anthony@rutgers.edu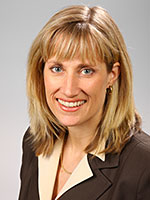 Cellular stress responses to amino acid deprivation
My laboratory explores the cellular mechanisms triggered by nutrition stress, particularly the signaling and gene expression pathways activated by amino acid deprivation. Two major signaling nodes responsive to amino acid deprivation are namely, eukaryotic initiation factor 2 (eIF2) and mammalian target of rapamycin (mTOR). Both of these control points are regulated by phosphorylation and both proteins influence how the cell responds to changes in amino acid supply.
In eukaryotes, phosphorylation of eIF2 is triggered by a family of four protein kinases. This phosphorylation event serves to dampen protein synthesis to preserve energy but also to reconfigure gene expression to promote adaptation and cell survival. In conditions of irremediable stress, gene expression switches toward programmed cell death pathways in order to limit tissue or organ damage. How this signaling pathway switches from cell survival and adaptation toward apoptosis is an area of active study. In this regard, my laboratory examines how the eIF2 kinases named GCN2 and PERK influence adaptation to amino acid stress produced by the anti-cancer drug asparaginase. Asparaginase is an integral part of the treatment for acute lymphoblastic leukemia, the most common childhood cancer. Asparaginase produces immunosuppression, pancreatitis, and hepatotoxicity with related metabolic complications that include fatty liver, reduced plasma proteins, and coagulation problems that lead to thromboembolism and cerebrovascular events. Studies currently ongoing are purposed toward identifying key molecular events in the eIF2 and mTOR signaling pathways that modulate hepatic dysfunction by asparaginase. These results will be used to increase the safety and efficacy of asparaginase and to develop and test improved methods of treatment.
ER Stress and the Unfolded Protein Response
Chemical or environmental perturbations that disrupt the folding capacity of the endoplasmic reticulum (ER) activate a tripartite mechanism called the Unfolded Protein Response (UPR, also called the ER Stress Response). Phosphorylation of eIF2 by PERK constitutes one arm of the UPR which serves to alleviate cell stress through a reprogramming of gene expression driven by increases in the synthesis of the transcription factor ATF4. My laboratory is interested in exploring how the PERK-eIF2-ATF4 arm of the UPR contributes to the overall efficacy of the UPR in response to a wide variety of environmental stressors.
Dietary Protein, Muscle Growth and Metabolic Homeostasis
The interface of dietary protein and exercise as it relates to weight control and optimization of lean body mass is a longstanding area of interest and study. In particular, my lab is interested in how varying the composition, distribution, source and/or timing of dietary protein can influence signaling pathways that regulate tissue growth and development. Aside from the eIF2 signaling pathway, the mTOR complex 1 (mTORC1) signaling pathway is a major transducer of cellular information regulating both protein synthesis and protein degradation processes in response to four major signal inputs: nutrients (i.e., amino acids), growth factors, energy and stress. Information gained in this area will be used to create novel approaches to better prevent and treat diabetes and obesity.
Lab Members
Emily T. Mirek, B.S., L.A.T.G, Lab Manager
Thompson Hall Room 134
Email: em581@aesop.rutgers.edu
Office: 732-932-9717
Lab: 732-932-2826
Pengxiang She, Ph.D., Assistant Research Professor
Thompson Hall Room 134
Email: she@aesop.rutgers.edu
Office: 732-932-9717
Lab: 732-932-2826
Gabriel Wilson, Ph.D., Postdoctoral Scholar
Thompson Hall Room 134
Email: gabriel.wilson@rutgers.edu
Office: 732-932-9717
Lab: 732-932-2826
Selected Publications
J Shan, L Fu, M Balasubramanian, T Anthony, MS Kilberg (2012) ATF4-Dependent Regulation of JMJD3 Gene During Amino Acid Deprivation Can Be Rescued in Atf4-Deficient Cells by Inhibition of Deacetylation. J. Biol. Chem. Oct 19;287(43):36393-403.
GJ Wilson, CJ Moulton, PJ Garlick, TG Anthony, DK Layman (2012) Post-Meal responses of eEF2 and AMPK to Leucine and Carbohydrate Supplements for Regulating Protein Synthesis Duration and Energy Homeostasis in Rat Skeletal Muscle. Nutrients 4(11), 1723-1739; doi:10.3390/nu4111723.
Anthony TG, Wek RC. TXNIP Switches Tracks toward a Terminal UPR. Cell Metab. 2012 Aug 8;16(2):135-7.
GJ Wilson, DK Layman, CJ Moulton, LE Norton, TG Anthony, CG Proud, SI Rupassara, PJ Garlick. Leucine or carbohydrate supplementation reduces AMPK and eEF2 phosphorylation and extends post-prandial muscle protein synthesis in rats. Am J Physiol Endo Metabol. 2011 Dec; 301(6):E1236-42.
BF Teske, SA Wek, P Bunpo, JK Cundiff, JN McClintick, TG Anthony, and RC Wek. The eIF2 kinase PERK and the integrated stress response facilitate activation of ATF6 during endoplasmic reticulum stress. Mol Biol Cell. 2011 Nov;22(22):4390-405.
P Bunpo, JK Cundiff, R Reinert, RC Wek, CJ Aldrich, TG Anthony. The eIF2 kinase GCN2 is essential for the murine immune system to adapt to amino acid deprivation by asparaginase. J. Nutr. 2010; 140(11):2020-7.
RC Wek and TG Anthony. Obesity: stressing about unfolded proteins. Nature Med. 2010 Apr;16(4):374-6.
RC Wek and TG Anthony. Beta testing the antioxidant function of eIF2 phosphorylation in diabetes prevention. Cell Metabol. 2009; 10(1):1-2.
P Bunpo, A Dudley, JK Cundiff, DR Cavener, RC Wek, TG Anthony. GCN2 protein kinase is required to activate amino acid deprivation responses in mice treated with the anti-cancer agent L-asparaginase. J. Biol. Chem. 2009 Nov 20;284(47):32742-9.
LE Norton, DK Layman, P Bunpo, TG Anthony, DV Brana, PJ Garlick. The leucine content of a complete meal directs peak activation but not duration of skeletal muscle protein synthesis and mammalian target of rapamycin signaling in rats. J. Nutr. 2009 Jun;139(6):1103-9.
TG Anthony and JC Anthony. AMPing down leucine action in skeletal muscle. J. Nutr. 2008; 138(12):2307-8.
P Bunpo, B Murray, J Cundiff, E Brizius, CJ Aldrich, TG Anthony. Alanyl-glutamine consumption modifies the suppressive effect of L-asparaginase on lymphocyte populations in mice. J. Nutr. 2008 Feb; 138(2):338-343.
TG Anthony, BJ McDaniel, P Knoll, P Bunpo, GL Paul, MA McNurlan. Feeding meals containing soy or whey protein after exercise stimulates protein synthesis and translation initiation in the skeletal muscle of male rats. J. Nutr. 2007 Feb; 137(2):357-62.
Wek RC, Anthony TG. EXtENDINg beta cell survival by UPRegulating ATF4 translation. Cell Metabol. 2006 Nov;4(5):333-4.
Reinert RB, Oberle LM, Wek SA, Bunpo P, Wang XP, Mileva I, Goodwin LO, Aldrich CJ, Durden DL, McNurlan MA, Wek RC, Anthony TG. Role of glutamine depletion in directing tissue-specific nutrient stress responses to L-asparaginase. J Biol. Chem. 2006 Oct 20; 281(42):31222-33.
Hao S, Sharp JW, Ross-Inta CM, McDaniel BJ, Anthony TG, Wek RC, Cavener DR, McGrath BC, Rudell JB, Koehnle TJ, Gietzen DW. Uncharged tRNA and sensing of amino acid deficiency in mammalian piriform cortex. Science 2005 Mar 18;307 (5716):1776-8.
Baum JI, O'Connor JC, Seyler JE, Anthony TG, Freund GG, Layman DK. Leucine reduces the duration of insulin-induced PI 3-kinase activity in rat skeletal muscle. Am. J. Physiol. Endocrinol. Metab. 2005 Jan;288(1):E86-91.
Anthony, TG, McDaniel, BJ, Byerley, RL, McGrath, BC, Cavener, DR, McNurlan, MA, Wek, RC. Preservation of liver protein synthesis during dietary leucine deprivation occurs at the expense of skeletal muscle mass in mice deleted for eIF2 kinase GCN2. J. Biol. Chem. 2004; 279:36553-36561.