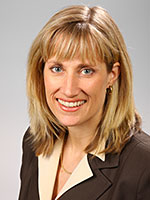 Office: Foran Hall Room 166:
Office Phone: 848-932-6331
Lab: Foran Hall Room 169 and 181
Lab Phone: (848) 932-6212
Email: tracy.anthony@rutgers.edu
Education
Post-doc, Penn State College of Medicine at Hershey, Cellular and Molecular Physiology
Ph.D., University of Illinois at Urbana-Champaign; Nutritional Sciences
M.S., University of Illinois at Urbana-Champaign; Nutritional Sciences
B.S., Virginia Tech University; Human Nutrition and Foods
Research Interests
Amino acid control of protein synthesis and gene expression
My laboratory explores the cellular mechanisms triggered by altered amino acid availability delivered by diet, drug or genetic alteration. Alterations in amino acid supply are sensed by a number of overlapping signal transduction cascades. Two major signaling nodes responsive to amino acid supply are the general amino acid control/amino acid response (AAR) pathway and the mammalian target of rapamycin complex 1 (mTORC1) pathway. While the mTORC1 pathway is responsive to amino acid sufficiency and supplementation, the AAR is activated by amino acid insufficiency and deprivation. How these signaling pathways work together to maintain homeostasis by regulating global protein synthesis and gene-specific translation is a major research focus of the lab.
In response to amino acid restriction, the mammalian AAR is initiated by phosphorylation of eukaryotic initiation factor 2 (eIF2). This phosphorylation event dampens general protein synthesis to preserve cellular energy while altering the transcriptome to favor adaptation and survival. To explore this concept in greater depth, we are currently studying pharmaceutical depletion of amino acids by a drug called asparaginase. Asparaginase is used to treat acute lymphoblastic leukemia, the most common childhood cancer. It starves tumors of circulating asparagine and glutamine. Some patients who receive asparaginase experience hepatotoxicity and suffer related metabolic complications that include fatty liver, reduced plasma proteins, thromboembolism and cerebrovascular events. My laboratory discovered that asparaginase activates the AAR in liver via the eIF2 kinase called GCN2. NIH-funded studies currently ongoing are purposed toward identifying additional key molecular events that modulate hepatic and pancreatic dysfunction by asparaginase. These results will be used to increase the safety and efficacy of asparaginase and to develop improved methods of treatment.
ER stress and the Unfolded Protein Response
Chemical, environmental or nutritional perturbations that disrupt homeostasis within the endoplasmic reticulum (ER) activate a mechanism called the Unfolded Protein Response (UPR, also called the ER Stress Response). Phosphorylation of eIF2 by PERK constitutes one arm of the UPR which serves to alleviate cell stress and re-establish homeostasis through a reprogramming of gene expression driven by the transcription factor ATF4. My laboratory is interested in exploring how the PERK-eIF2-ATF4 arm of the UPR contributes to the overall cellular effort to promote cellular adaptation and survival in response to a wide variety of environmental stressors.
Dietary protein, muscle growth and metabolic homeostasis
The interface of dietary protein and exercise as it relates to weight control and optimization of lean body mass is a longstanding area of interest and study. In particular, my lab is interested in how varying the composition, distribution, source and/or timing of dietary protein can influence signaling pathways that regulate tissue growth and development. Information gained in this area will be used to create novel approaches to better prevent and treat chronic disease and promote longevity.

Lab Members
Emily T. Mirek, B.S., L.A.T.G, Lab Manager
Email: emily.mirek@rutgers.edu
Office: Foran Hall Room 163
Office Phone: 848-932-6332
Lab phone: 848-932-6212
Yongping Wang, Ph.D.; Research Associate
Email: wang@aesop.rutgers.edu
Office: Foran Hall Room 163
Phone: 848-932-6332
Inna Nikonorova, Ph.D.; Postdoctoral Associate
Email: nikonorova@aesop.rutgers.edu
Office: Foran Hall Room 163
Phone: 848-932-6332
Ashley Pettit, Ph.D., INSPIRE Postdoctoral Fellow
Email: pettit@aesop.rutgers.edu
Office: Foran Hall Room 163
Rana Al Baghdadi, Endocrinology and Animal Biosciences Graduate Student
Email: rja111@scarletmail.rutgers.edu
Office: Foran Hall Room 163
Phone: 848-932-6332

Recent Publications
Layman DK, Anthony TG, Rasmussen BB, Adams SH, Lynch CJ, Brinkworth GD, Davis TA. Defining meal requirements for protein to optimize metabolic roles of amino acids. Am J Clin Nutr. 2015 Apr 29. pii: ajcn084053. PMID: 25926513
Wilson GJ, Lennox BA, She P, Mirek ET, Al Baghdadi RJ, Fusakio ME, Dixon JL, Henderson GC, Wek RC, Anthony TG. GCN2 is required to increase fibroblast growth factor 21 and maintain hepatic triglyceride homeostasis during asparaginase treatment. Am J Physiol Endocrinol Metab. 2015 Feb 15;308(4):E283-93. doi: 10.1152/ajpendo.00361.2014. Epub 2014 Dec 9. PMID: 25491724
Tuazon MA, McConnell TR, Wilson GJ, Anthony TG, Henderson GC. Intensity-dependent and sex-specific alterations in hepatic triglyceride metabolism in mice following acute exercise. J Appl Physiol (1985). 2015 Jan 1;118(1):61-70. doi: 10.1152/japplphysiol.00440.2014. Epub 2014 Sep 25. PMID: 25257878
Baird TD, Palam LR, Fusakio ME, Willy JA, Davis CM, McClintick JN, Anthony TG, Wek RC. Selective mRNA translation during eIF2 phosphorylation induces expression of IBTKα. Mol Biol Cell. 2014 May;25(10):1686-97. doi: 10.1091/mbc.E14-02-0704. Epub 2014 Mar 19. PMID: 24648495
She P, Bunpo P, Cundiff JK, Wek RC, Harris RA, Anthony TG. General Control Nonderepressible 2 (GCN2) Kinase Protects Oligodendrocytes and White Matter during Branched-Chain Amino Acid Deficiency in Mice. J Biol Chem. 2013 Oct 25;288(43):31250-60. doi: 10.1074/jbc.M113.498469. Epub 2013 Sep 9. PMID: 24019515
Wilson GJ, Bunpo P, Cundiff JK, Wek RC, Anthony TG. The eukaryotic initiation factor 2 (eIF2) kinase GCN2 protects against hepatotoxicity during asparaginase treatment. Am J Physiol Endocrinol Metab. 2013 Nov 1;305(9):E1124-33. doi: 10.1152/ajpendo.00080.2013. Epub 2013 Sep 3. PMID: 24002574
Anthony TG, Morrison CD, Gettys TW. Remodeling of lipid metabolism by dietary restriction of essential amino acids. Diabetes. 2013 Aug;62(8):2635-44. doi: 10.2337/db12-1613. PMID: 23881190
Lackey DE, Lynch CJ, Olson KC, Mostaedi R, Ali M, Smith WH, Karpe F, Humphreys S, Bedinger DH, Dunn TN, Thomas AP, Oort PJ, Kieffer DA, Amin R, Bettaieb A, Haj FG, Permana P, Anthony TG, Adams SH. Regulation of adipose branched-chain amino acid catabolism enzyme expression and cross-adipose amino acid flux in human obesity. Am J Physiol Endocrinol Metab. 2013 Jun 1;304(11):E1175-87. PMID: 23512805
Anthony TG, Gietzen DW. Detection of amino acid deprivation in the central nervous system. Curr Opin Clin Nutr Metab Care. 2013 Jan;16(1):96-101. PMID: 23222708
Wilson GJ, Moulton CJ, Garlick PJ, Anthony TG, Layman DK. Post-meal responses of elongation factor 2 (eEF2) and adenosine monophosphate-activated protein kinase (AMPK) to leucine and carbohydrate supplements for regulating protein synthesis duration and energy homeostasis in rat skeletal muscle. Nutrients. 2012 Nov 13;4(11):1723-39. PMID: 23201843
Anthony TG, Wek RC. TXNIP switches tracks toward a terminal UPR. Cell Metab. 2012 Aug 8;16(2):135-7. PMID: 22883225
GJ Wilson, DK Layman, CJ Moulton, LE Norton, TG Anthony, CG Proud, SI Rupassara, PJ Garlick. Leucine or carbohydrate supplementation reduces AMPK and eEF2 phosphorylation and extends post-prandial muscle protein synthesis in rats. Am J Physiol Endo Metabol. 2011 Dec; 301(6):E1236-42. PMID: 21917636
BF Teske, SA Wek, P Bunpo, JK Cundiff, JN McClintick, TG Anthony, and RC Wek. The eIF2 kinase PERK and the integrated stress response facilitate activation of ATF6 during endoplasmic reticulum stress. Mol Biol Cell. 2011 Nov;22(22):4390-405. PMID: 21917591