Lipids such as fatty acids and cholesterol are involved in innumerable cellular processes, including energy storage and production, membrane biogenesis, signal transduction, and the regulation of gene expression. Nevertheless, the mechanisms by which lipids are transported and targeted within cells remain incompletely understood. Abnormal lipid trafficking, such as that occurring in lipid-storage diseases, can lead to severe cellular pathologies. The overall focus of research in this laboratory is on lipid traffic in cells, with particular emphasis on long-chain fatty acids, monoacylglycerols, and cholesterol. Ongoing efforts are addressing the following questions:
What are the functions of cytoplasmic fatty acid-binding proteins (FABP) in intracellular lipid transport and metabolism? Why do different cell types have different FABP? How do the intestinal FABP's impact whole body energy homeostasis?
How does the intracellular cholesterol-binding protein, Niemann-Pick type C2 protein (NPC2), function in the transport of cholesterol out of endosomes and lysosomes, and can we use specific phospholipid enrichment to treat NPC disease?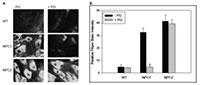 The laboratory uses a combination of biochemical, biophysical, cell and molecular biological, and whole animal studies to answer these questions. For example, the structural determinants of the lipid transport properties of FABP and NPC2 proteins are probed using site-directed mutagenesis, fluorescence spectroscopy, and membrane biophysics approaches. Cell culture systems such as the Caco-2 human intestinal cell line are used to examine cellular lipid transport using biochemical methods and confocal microscopy. The functions of FABPs are also studied using transgenic mouse models in which specific FABP expression has been "knocked out". Cells from patients with NPC disease are used to examine the function of the NPC2 and NPC1 proteins in cholesterol trafficking. These studies are providing fundamental information about the cellular trafficking of lipids, with the ultimate goal of enabling effective preventive and therapeutic approaches to a variety of pathologic conditions including obesity, cardiovascular disease, and lipid-storage diseases.
Selected Publications
Ilnytska O, Lai K, Gorshkov K, Schultz ML, Tran BN, Jeziorek M, Kunkel TJ, Azaria RD, McLoughlin HS, Waghalter M, Xu Y, Schlame M, Altan-Bonnet N, Zheng W, Lieberman AP, Dobrowolski R, Storch J Enrichment of NPC1-deficient cells with the lipid LBPA stimulates autophagy, improves lysosomal function, and reduces cholesterol storage. J. Biol. Chem 2021 297(1):100813. doi: 10.1016/j.jbc.2021.100813. PMID: 34023384.
Lee SA, Yang KJZ, Brun PJ, Silvaroli JA, Yuen JJ, ShmarakovI, Jiang H, Feranil JB, Li X, Lackey AI, Krężel W, Leibel RL, Libien J, Storch J, Golczak M and Blaner WS. Retinol-Binding Protein 2 (RBP2) Binds Monoacylglycerols and Modulates Gut Endocrine Signaling and Body Weight. Science Advances 6:eaay8937, 2020.
Lackey AI, Chen T, Zhou YX, Bottasso-Arias NM, DoranJM, Zacharisen SM, Gajda AM, Córsico B, Joseph LB, Storch J. Mechanisms underlying reduced weight gain in Intestinal Fatty Acid-Binding Protein (IFABP) null mice. Am J Physiol Gastrointest Liver Physiol. 2020 Jan 6. doi: 10.1152/ajpgi.00120.2019.
McCauliff LA, Langan A, Li R, Ilnytska O, Bose D, Waghalter M, Lai K, Kahn PC, Storch J. Intracellular cholesterol trafficking is dependent upon NPC2 interaction with Lysobisphosphatidic Acid. Elife. 2019 Oct 3; eLife 2019;8:e50832 doi: 10.7554/eLife.50832.
Xu H, Gajda AM, Zhou YX, PanettaC, Sifnakis Z, Fatima A, Henderson GC, Storch J. Muscle metabolic reprogramming underlies the resistance of liver fatty acid-binding protein–null mice to high-fat feeding–induced decline in exercise capacity. J Biol Chem 2019 Aug 26. pii: jbc.RA118.006684. doi: 10.1074/jbc.RA118.006684.
DaSilva G, Boller M, Medina I, Storch J. Relative levels of dietary EPA and DHA impact gastric oxidation and essential fatty acid uptake. J Nutr Biochem 55:68-75, 2018.