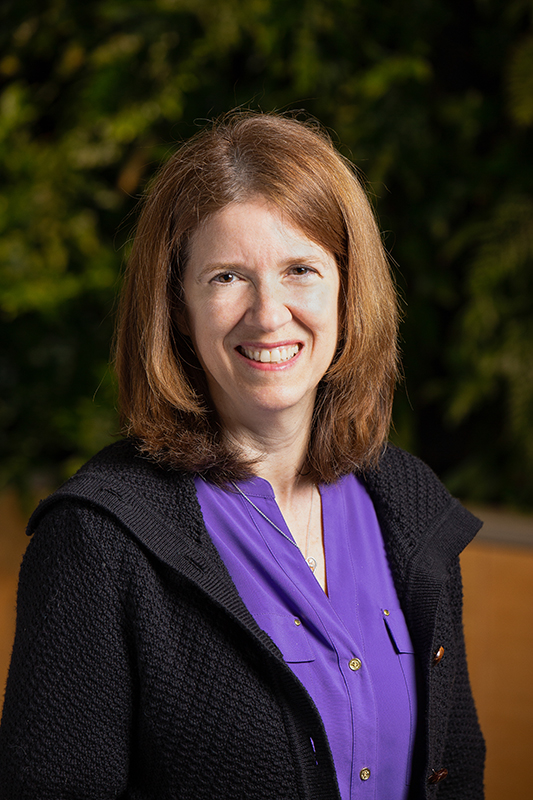 Sue Shapses brings together clinical experience and academic training to study nutritional aspects of disease and works closely with the Department of Medicine at Rutgers-RWJH. She received her MS and PhD from Columbia University followed by postdoctoral training at Albert Einstein College of Medicine (Critical Care Medicine) and a fellowship at Columbia College of Physicians and Surgeons (Orthopaedic Biochemistry). She earned her RDN after an internship at Rochester Strong Memorial Medical Center and more recently spent a sabbatical learning in the Department of Medicine/ Division of Endocrinology/Bone Biology, University of Sydney. She served as interim-Chair in the Department of Kinesiology and Health at Rutgers for three years and is currently the Director of the N.J. Obesity Group. Sue held numerous committee and leadership roles at the Institute of Medicine (National Academy of Sciences), NIH, NASA and has served as advisor on industry boards (i.e., Merck, Bayer). She has supervised PhD students, postdoctoral researchers and Assistant Professors (K awards).
The major focus in the laboratory is to determine how obesity and loss of body weight contributes to the risk of osteoporosis and the comorbidities of obesity. A focus in the lab is to determine mechanisms that regulate the rate bone loss during caloric restriction and the role of specific nutrients such as vitamin D, protein and calcium. Hormones, bone turnover and gut peptides are measured using techniques of spectrophotometry, HPLC, and radioimmunoassay, stable isotopes and mass spec to assess absorption. The lab examines healthy individuals with a focus on obesity including gastric bypass patients, and patients with spinal cord injury and diabetes and racial differences in metabolic syndrome. In recent years, Sue's attention has turned to the intersection of how vitamin D or gut peptides regulate glycemic indices, bone and appetite. Publications can be viewed at: http://orcid.org/0000-0002-3128-2325.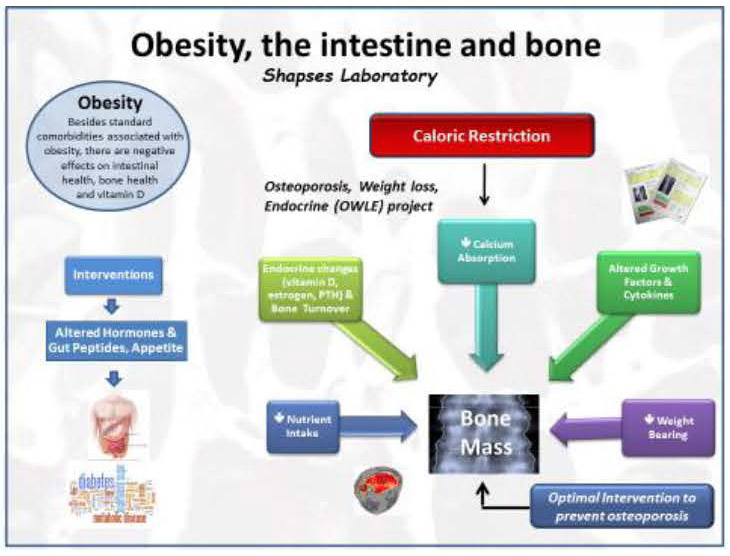 Selected Articles and Reviews
Pop LC, Sukumar D, Schlussel Y, Schneider SH, Stahl T, Gordon CL, Shapses SA. Three doses of vitamin D on bone mineral density and structural properties in women: a double blind randomized trial. Osteoporos Int. 2017 1:377-88.
Hao L, Schlussel Y, Schneider S, Feiselmann K, Shapses SA. Appetite and Gut hormones response to a putative α-glucosidase inhibitor, Salacia Chinensis, in overweight/obese Adults: A double blind randomized controlled trial. Nutrients 2017, 9(8), 869; doi:10.3390/nu9080869
Shapses SA, Pop LC, Wang Y, Obesity is a concern for bone health with aging, Nutr Res. 2017; 39:1-13.
Fransniak J, Shapses SA, Wei S, Scott R, Wang X. Vitamin D binding protein in infertile women. Fertility Res Practice 2017; Oct 10;3:14
Wang Y, Dellatore P, Dourard V, Qin L, Watford M, Ferraris R, Lin T, Shapses SA. High fat diet enriched with saturated, but not monounsaturated fatty acids adversely affects femur, and both diets increase calcium absorption in older female mice. Nutr Res, 2016, 36:742-50.
Chang B, Schlussel Y, Sukumar D, Schneider SH, Shapses SA. Influence of vitamin D and estrogen receptor gene polymorphisms on calcium absorption: BsmI predicts a greater decrease during energy restriction. Bone. 2015; 81:138-144.
Pop LC, Sukumar D, Tomaino K, Schlussel Y, Schneider SH, Gordon C, Wang X, Shapses SA. A Controlled Intervention of Weight Loss and Bone Mineral Density in Older Men. Am J Clin Nutr 2015; 101(3):659-67
Shapses SA, and Sakumar D. Bone metabolism in obesity weight loss. Ann Rev Nutr, 2012; 32:287-309. arjournals.annualreviews.org/eprint/STaWyJyHES8nSPjAVDmC/pdfplus/10.1146/annurev.nutr.012809.104655
Sukumar D, Ambia-Sobhan H, Zurfluh R, Schlussel Y, Stahl TJ, Gordon CL, Shapses SA. Areal and volumetric bone mineral density and geometry at two levels of protein intake during caloric restriction: a randomized, controlled trial. J Bone Miner Res. 2011;26(6):1339-48.
Sukumar D, Partridge NC, Wang X, Shapses SA. The high serum monocyte chemoattractant protein-1 in obesity is influenced by high parathyroid hormone and not adiposity. J Clin Endocrinol Metab. 2011;96(6):1852-8.
Shapses SA, Manson JE. Vitamin D and prevention of cardiovascular disease and diabetes: why the evidence falls short. JAMA. 2011;305(24):2565-6.
Ross AC, Manson JE, Abrams SA, Aloia JF, Brannon PM, Clinton SK, Durazo R, Gallo RL, Gallagher JC, Jones G, Kovacs CS, Mayne ST, Rosen CJ, Shapses SA. The 2011 Report on dietary reference intakes for calcium and vitamin D: What clinicians need to know. J Clin Endocrinol Metab, 2011; 96(1):53-8.
Bogden JD, Kemp FW, Huang AE, Shapses SA, et al. Bone mineral density and content during weight cycling in female rats: effects of dietary amylase-resistant starch. Nutr Metab.2008;5:34.
Riedt CS, Brolin RE, Sherrell RM, Field MP, Shapses SA. True fractional calcium absorption is decreased after Roux-en-Y gastric bypass surgery. Obesity. 2006 14:1940-8.
Shapses SA, Heshka S, Heymsfield SB. Effect of calcium supplementation on weight and fat loss in women. J Clin Endocrinol Metab. 2004 Feb;89(2):632-7.
Chapters
Shapses SA, Pop C, Schneider SH. Vitamin D in Obesity and Weight Loss. In: Nutritional Aspects of Osteoporosis. Eds. Weaver CM, Daly RM, Bischoff-Ferrari H. Springer, London, p 185-196, 2016.
Shapses SA. Calcium and Phosphorus. In: Biochemical, Physiological & Molecular Aspects of Human Nutrition. Ed. Stipanik, Caudill, M, Elsevier, 2017.
Shapses SA, Mauro T, Brolin RE. Nutritional Concerns for Bariatric Surgery. In: Preventive Nutrition: In: The Comprehensive Guide for Health Professionals, Fifth Edition, Eds: A Bendich & RJ Deckelbaum. Humana Press/Springer, New York, p 439-55, 2015.
Shapses SA, Lewis RD, Pollack N. Relationships between fat and bone in children and adults. In: Diet, Nutrients and Bone Health. Eds. Anderson JB, Garner SC, Klemmer PJ eds. Boca Raton, FL: CRC Press, 2011.