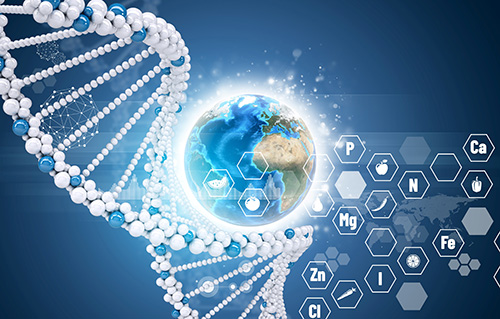 The Nutritional Sciences Graduate Program offers multidisciplinary training that provides a broad understanding of the field of nutrition as well as the specialized knowledge needed to conduct research in a sub-field.
We have three major emphasis areas: nutritional biochemistry and physiology, community nutrition, and dietetics.
Scientists working in nutritional biochemistry and physiology conduct their research using the tools of molecular and cellular biology, biochemistry, and physiology to understand how organisms utilize nutrients to maintain optimal health.
Applied nutritionists use sociological, psychological, anthropological methods, clinical, and education theory to investigate factors that influence the nutritional status of individuals and communities.
The Graduate Program in Nutritional Sciences at Rutgers draws its faculty from the Departments of Nutritional Sciences, Animal Sciences, Food Sciences, and Human Ecology at the School of Environmental and Biological Sciences, Rutgers University, other divisions of Rutgers University, and Rutgers Biomedical and Health Sciences. Students also benefit from the courses offered and broad research expertise of faculty in related departments in other divisions of Rutgers University and Rutgers Biomedical and Health Sciences.
Graduate Faculty Research
Examples of Nutritional Sciences Graduate Faculty's current research are:
Nutritional Biochemistry and Physiology
Cellular lipid transport and lipid-binding proteins
Adipose tissue metabolism
Regulation of glutamine metabolism
Energy metabolism
Bone metabolism during weight loss and disease states
Nutrition and alcohol metabolism
Nutrient and phytochemical effects on cancer development
Taste and fat preference in humans
Applied and Community Nutrition
Community food security
Diet and behavior in socioeconomically at-risk infants and children
Nutrition and limited-resource audiences
Disordered eating in college students
Nutritional epidemiology
Program evaluation strategies
Food and nutrition in diverse populations
Nutrition Education
See Graduate Faculty Research Pages and our brochure (336k PDF) for more details.
Dietetics
Health promotion & disease prevention
Clinical nutrition
Foodservice management
Nutrition education
Community nutrition and outreach
Diet and behavior across the lifespan
Food and nutrition in diverse audiences and socioeconomic statuses
For more information, please visit our Dietetics website.
Courses of Study
The Graduate Program in Nutritional Sciences offers courses of study leading to the M.S. and Ph.D. degrees. Original research leading to a Master's or Ph.D. thesis is conducted under the guidance of well-established nutrition researchers.
Graduate Program in Nutritional Sciences Learning Goals and Assessment (18k PDF)
The National Research Council has reviewed more than 5000 graduate programs in the U.S. and has ranked the Rutgers Graduate Program in Nutritional Sciences among the best Nutritional Sciences programs in the country.